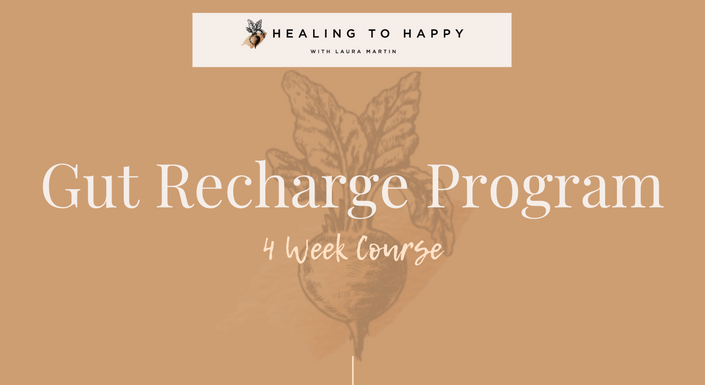 Gut Recharge Program
The Blueprint to Start Healing Your IBS & Anxiety Without The Overwhelm
Enroll in Course
Are you ready to heal your depression and anxiety without medications?
90% of your serotonin being housed in your gut lining, along with 50% of your dopamine and 85% of your immunity- it would make sense to stop suppressing symptoms and actually start healing those anxious and depressed feelings for life.
In this 4-week Signature Gut Recharge Program, we're walking together as you heal your gut to heal your mind so you can finally gain back control of your emotions and become empowered in your daily doings. In this course, you'll gain all the tools I've used to heal myself from depression, anxiety, addiction, and crippling IBS.
Depression and anxiety are NOT a disease. They are symptoms.
If you're currently sick of feeling powerless over your emotions and confused about how to eat & live without.....
Obsessing over every single thing you put in your mouth

Having to spend thousands on medications and supplements that don't seem to be working

Restricting so many foods that you don't know what to eat anymore

Working so hard to "be good" with minimal results
Then you're in the right place!
How do I know?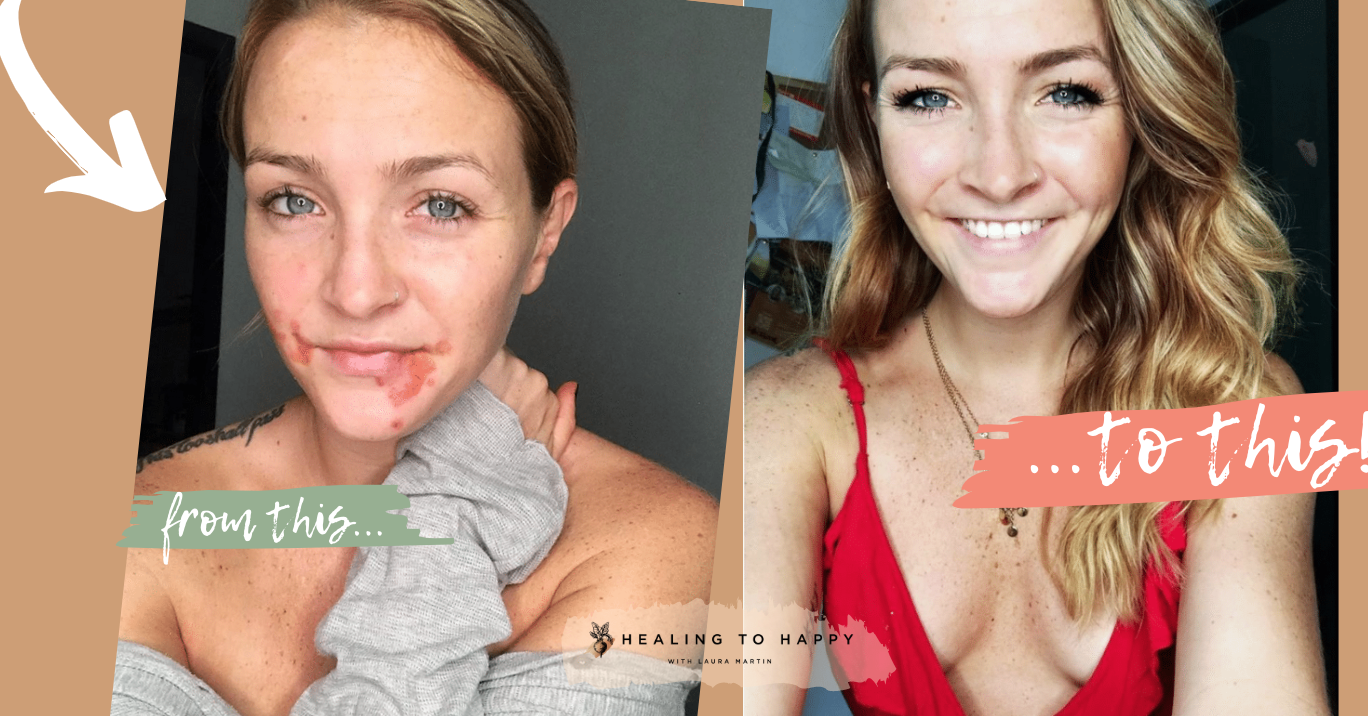 I created this course because I've BEEN THERE:
You wake up feeling like a giant elephant is sitting on your chest?

You feel exhausted, drained, bloated, and fatigued before you even get out of bed in the morning?

You drown out your feelings of discomfort with over-consuming (food, alcohol, work, Netflix, etc.)?

You're sick and tired of doctors telling you that "nothing is wrong"?

You start a new diet and it works for a little while, only to be left in the same (or worse) place as before?

You have tried it all and doctors have told you that the only way to manage your symptoms is with a prescription you'll have to take for the rest of your life?

You've tried it all from paleo, AIP, keto, gluten-free, dairy-free, etc and your friends have had great success yet it's a big fat failure for you?

Your symptoms go away for a little while, give you a glimmer of hope and then they come back with a vengeance?

You're just plain DONE starting your day with medications after medications and restrictive diets, resulting in has so many food "rules" that you don't even know what to eat anymore?

You don't want to EVER be confused about supplements, foods, and diets again.
Chances are you...
Feeling uncontrollable at night around food or alcohol

Feel like you can't have snacks in the house because you "can't be trusted"

Suffer from on and off depression and anxiety

Feel like no one understands what you're going through so you never talk about it

Feel that you don't always feel emotionally in charge

Struggle with finding and maintaining a healthy weight balance

Are looking for better eating habits so you can feel better and get rid of bloating as well as anxiety

AND be able to eat foods you enjoy, eat intuitively & fill your body with life-giving nutrients at every meal without spending a fortune on supplements and fancy meal-prep...
Wouldn't it be awesome if you could have a step-by-step guide that shows you:
how to eat & live in a way that helps you feel and look good from the inside out

how to gain back control of your emotions and live each day with energy and excitement

break free from emotional eating that follows moods swings

how to become empowered around your nutrition and how it affects your moods
...by someone who has studied psychology and is certified in nutrition consulting specializing in the gut-brain connection for over 5 years and has not only put her Depression, Anxiety and IBS into remission, but who has successfully kicked her addictions and restored her own metabolism after huge amounts of damage from disordered eatings and doing restrictive diets and engaging in excessive and toxic lifestyle choices.
Well, now you can!
The online course where I'm sharing my foolproof day-to-day nutrition, lifestyle and mindset hacks is FINALLY here.
That's a $2,407 Value
For only $499!
Say HELLO to...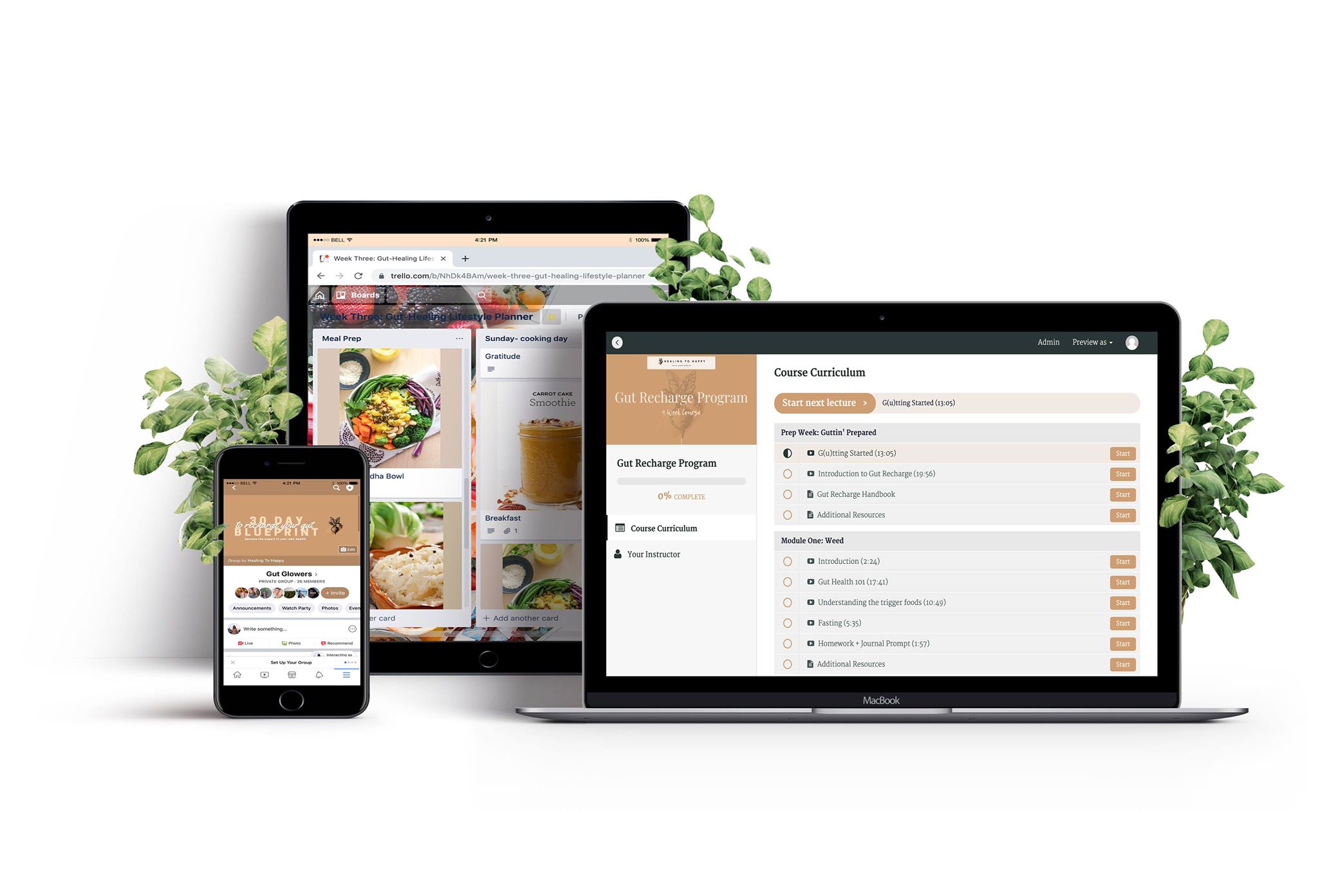 Gut Recharge Program:
The Blueprint to Start Healing Your Depression and Anxiety With Nutrition
Imagine what it will feel like to:
Wake up feeling renewed and energized

No longer feel as though your moods were out of your control

Be completely empowered with knowledge of your body, your gut, & your mental health, so you can make empowered decisions about your health every day forward.


Have the knowledge to understand how your foods are affecting your moods

Have everything you need to start working towards feeling really frickin' good again (no diets ever again!).


Enjoy delicious and satisfying foods without guilt or fear to g(u)t happy and healthy!

Knowing which foods help you thrive and which foods cause a flare-up

Use real, whole nutrient-dense foods therapeutically and so you can stop wasting money on supplements that leave you with little to no results

Start to learn about small tweaks to make to create lasting change

Be supported by a tribe of Gut Glowers walking along side you as you embark on this journey
Your Instructor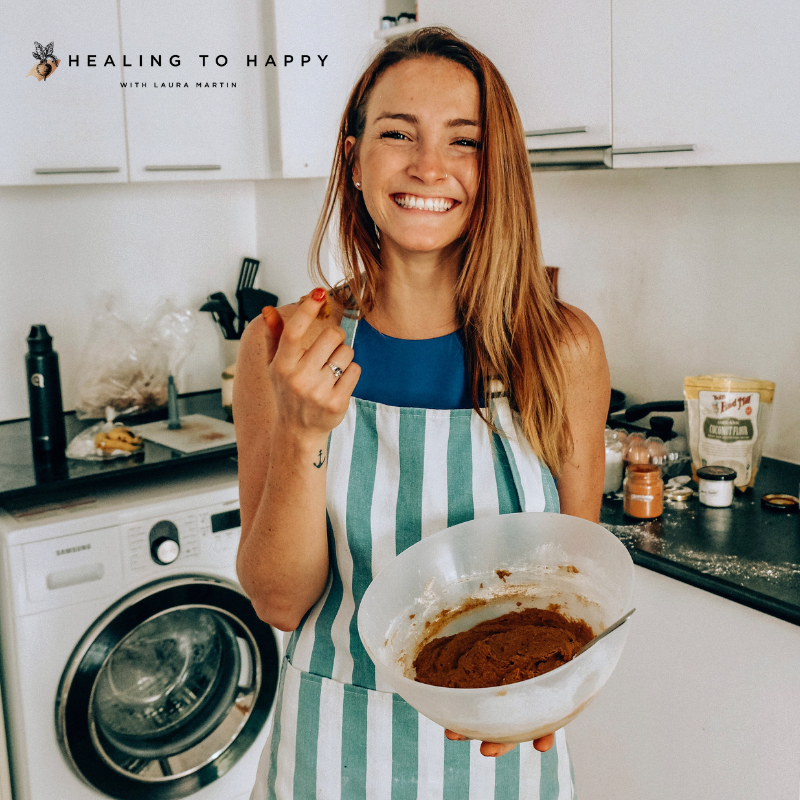 A Bangkok based Certified Holistic Nutritionist and founder of Healing to Happy – an online holistic healing program + lifestyle brand.
Laura is trained in holistic nutrition and specializes in gut health, hormonal balancing, and is a mental health advocate. After battling her way through depression, disordered eating, and hormonal imbalances that left her with crippling digestive issues, Laura healed herself through food, lifestyle, radical shifts in consciousness, and mindfulness practices + tools. She now guides others through their own healing journey with one-on-one sessions done online from anywhere in the world.
HERE'S WHAT YOU CAN EXPECT TO GUT:
A complete understanding of the gut-brain connection and how it influences your entire body's function and how to eat & live in a way that optimizes them.

How to use different foods + methods + tools to clearly see how your nutrition and lifestyle habits are affecting your gut and mental health- so you can adjust accordingly and create a plan that is unique to you.

The ins & outs of the different gut imbalances that can lead to those mood swings and methods on how to heal them.

A Gut Diary that walks you through how you can track your symptoms- things like poops, moods, sleep, digestion & moods- so you know you're making progress. You become the expert in your own health


How to create satisfying meals with minimum effort and maximum benefits.

How to trust your body and hunger cues again, so you can stop fearing the kitchen and start using it as your best tool for thriving in life.


How to overcome cravings and use your cravings to your advantage.

Sleep techniques, Breathing Techniques & Lifestyle hacks to increase gut health and brain function.


What to look for in probiotics & what to avoid for maximum health and vitality.

Strategic detoxification principles

Stress reduction practices


How to stock your kitchen and prepare your life for success that last a lifetime!

Me and a tribe of other Gut Glowers in your corner supporting you each step of the way

And much more!
Course Curriculum
Prep Week: Course Roadmap
Available in days
days after you enroll
Module One: Gut-Brain Connection Gutsplained + Tracking Process
Available in days
days after you enroll
Modules Two: Gut Happy Mindset
Available in days
days after you enroll
Frequently Asked Questions
When does the course start and finish?
The course is a completely self-paced online course - but will run in a sequence of one module per week for four weeks. We will have our weekly 'Gut Togethers' in our private group. You can always catch the replay if the timezones don't align.
How long do I have access to the course?
How does lifetime access sound? After enrolling, you have unlimited access to this course for as long as you like - across any and all devices you own.
What if I am unhappy with the course?
We would never want you to be unhappy! If you are unsatisfied with your purchase, contact us in the first 15 days and we will give you a full refund.
I entered my email for the course, why did I not receive an email to gain access?
Oy! It could be possible that your love note went to your junk mail. Give it a check and if not shoot an email over to
[email protected]
and we'll get you access straight away!
What will these next four weeks look like?
I encourage you to grab your cup of tea and create some white space in your calendar for some "me" time. The modules are anywhere from 2-30 minutes. They are filled with science and soul, walking you through everything you need so you can start making small changes THAT day without feeling overwhelmed. Everything is at your own pace because let's be real, who knows you better than you? It's one step at a time and I'm there as your guide each step of the way.
What do I need to prepare?
Show up as you are with an open mind and a desire to expand and grow. We're meeting you, as you are today and walking you through the steps to achieve your happiest and healthiest self. You'll receive the Gut Recharge Handbook upon enrollment that will walk you through the first steps along with the first module being "prep week" so you can gut goin on the right foot.
How much time will this take?
I would say 1 hour a week. You will have one module a week. Each module is made up of a 3-5 minute introduction, 10-30 minute education videos, and 2-5 minute closing video. You will then have journal prompts and steps to take to put what you learned to action. All recipes provided are around 5 ingredients and around 15 minutes to make. We're keepin' healthy SIMPLE!
Are there vegan options?
Yes! All the meal options have veg-friendly alternatives.

Are you ready to start taking a holistic, nutrition-based approach to your anxiety and depression?
Disclaimer:
This program is designed as a stepping stone to help you heal your anxiety, depression, and IBS using nutrition.
Proper nutrition, therapy, exercise, and a supportive community are all necessary pillars as well.
I invite you to take the first step and watch the rest to follow.